Equitable Title of Florida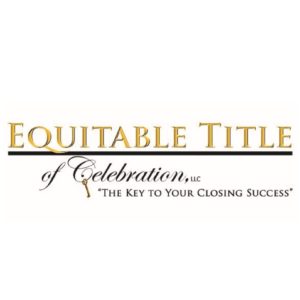 Open hours:
8:30A-5P Monday-Friday, Closed Saturday-Sunday
Contact information:
407-566-0776
610 Sycamore Street, Suite 180 Celebration, FL
Website:
Equitable Title of Florida
Se Habla Español
Your Hometown closing agent! The staff at Equitable Title is comprised of experienced title insurance professionals who provide exceptional customer service.
About Equitable National Title Group
Equitable National Title Group is dedicated to the highest level of Client Service delivered with professionalism and integrity. Our mission has always been to establish life-long relationships with our Clients through compliance, innovation, and maintaining changing industry standards.
The past few years have benchmarked changes that have taken the industry by storm. As a result of the financial crash of 2008 government organizations like the Consumer Financial Protection Bureau (CFPB) have formed to create transparency for consumers and impose regulations on the industry to prevent a repeat of this sort of financial disaster. The goal of the CFPB is to ensure that only one agency is responsible for Consumer Protection and that companies in the industry provide resources that are non-confusing so that consumers understand what they're signing up for and what their options are to compare and shop certain services.
Through Education and Technology, Equitable National Title Group has evolved with these changes to ensure no interruption in the level of service we provide.
As a result of an April 2012 bulletin by the CFPB that mandated all mortgage bank lenders are now responsible for the compliance of their third-party vendors, The American Land Title Association (ALTA) has provided a framework of Best Practices to enable title companies and closing professionals to maintain a level of compliance appropriate with CFPB standards.
Best Practices sets the standard of lender expectations for title companies and closing professionals across the country. Furthermore, third-party certification in Best Practices ensures that lenders will not have to undergo rigorous approval processes to utilize the services of closing professionals who obtain certification, preventing unwanted interruptions in the closing process.
Equitable National Title Group, LLC is the FIRST title company in Central Florida to obtain Third-Party Certification in ALTA's Best Practices by Security Compliance Associates (SCA). We pride ourselves on continuing to educate our staff on the most current industry standards and practices and are proud to be at the forefront of consumer protection in the wake of the industry changes. Equitable National Title Group guarantees the protection of consumer identities and escrow funds. In an industry without much variation in products and services, our Commitment to extraordinary service, compliance, and ability to consistently deliver is what sets us apart.
Benefits of using Equitable Title to handle your closing
Several offices conveniently located to serve you.
Flexible closings to better accommodate your schedule. If requested, we will come to you!
Experienced, knowledgeable personnel.
Our staff will make closing on the sale or purchase of your home effortless and enjoyable.
We are agents for the top title insurance underwriters in the nation.
Competitive pricing.
It's easy to see that Equitable Title is the key to your closing success!