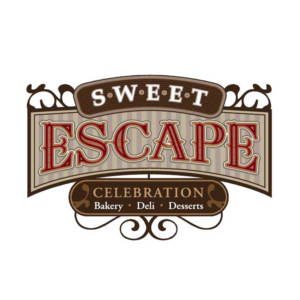 Open hours:
7A-9P Monday-Thursday and Sunday, 7A-10P Friday-Saturday
Contact information:
407-566-0603
603 Market Street, Suite 110 Celebration, FL
Website:
Sweet Escape
Sweet Escape is an authentic European Style Bakery & Deli. We delight our Guest with Excellent Service in a welcoming Victorian environment where we serve Great Tasting Food at Great Prices.   In our Bakery you'll find Fresh Baked Breads, Pastries, Desserts, and Cupcakes all Made Fresh Daily.
In our Deli we offer Delicious Breakfast, Lunch, Dinner Sandwiches featuring Boar's Head® Meats & Cheeses.    In our Café we offer Locally Roasted Great Tasting Coffee at great prices.   Italian Espresso, Specialty Coffee, Frozen Coffee, and Iced Coffee.  Also available are our Frozen (100% Fruit) Smoothies, very refreshing.
In our Town Market you'll find Newspapers, a variety of Convenience items, Milk, Eggs, Yogurt, Monster Drinks, Snacks, Candy, and much more.