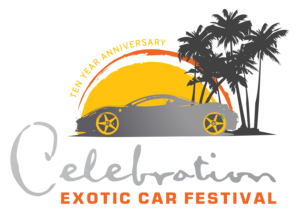 Click here for official Celebration Exotic Car Show website.
Join us in Central Florida April 9-13, 2021 for the 18th annual Celebration Exotic Car Festival children's charity event! This four-day festival showcases North America's largest collection of exotic cars, race cars, Hollywood movie cars, and iconic actors and celebrities, coming together to help children with life threatening medical conditions.
The event kicks off on Friday night, April 9, with an incredible new event – a PRIVATE VIP party at Disney Hollywood Studios with police escorted VIP transportation, dinner, and the Aerosmith Rock'n' Roller Coaster and Tower of Terror open privately just for our VIP's!
On Saturday morning, stroll through the world class exotic car concours set along the waterfront of Celebration. Following the concours, attend the exclusive Champagne Taittinger reception and ZD Wine pairing dinner at the Four Seasons Resort at Walt Disney World. And Sunday morning, participate in the acclaimed road rally, starting with police escort.
Following the rally, the event moves to Daytona, where you will have the opportunity to drive your exotic for two days on the world famous Daytona International Speedway!
CECF Wish Foundation is a 501(c)3 charity